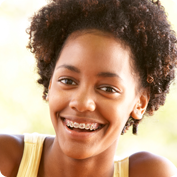 There are very few true orthodontic emergencies. Most problems can be remedied at home. However, if you have a situation that you cannot resolve on your own, call us as soon as possible so we can schedule an appointment with Dr. Kubik.
Sore Teeth
If your teeth are sore after a visit, you may take an over-the-counter, non-aspirin pain reliever such as Motrin, Advil, generic ibuprofen, or Tylenol. Read and follow all directions. Always consult with your physician before taking medications or if you have any allergies or medical concerns.
Brace or Wire Irritation
If a brace is irritating your lip or cheek try covering the brace with a small amount of orthodontic wax. If you need more assistance, call our office.
Loose Brace
If you have a loose brace, please call our office.
Dental Trauma
If you experience trauma to your teeth and have loose teeth, bleeding gums, or tooth pain, please call our office immediately so we can help you. We have a 24 hour answering service to get you help as soon as possible.